Kim Designs is a fresh and exciting concept created by Kim Weisgerber Craig in May of 2005. At KimDesigns.com, the client logs into a web portal that features thousands upon thousands of patterns and artwork from the world's most talented creative and energetic artist, designers and illustrators. While Kim Designs offers thousands of patterns and artwork that is ready for "immediate delivery", Kim Design also specializes in custom design services.
The core of our success for our clients lies in a collaborative environment. With well over 200 contributing designers, artists and product development specialist and consultants "on call", Kim Designs has the ability to pull expertise from many sources.
Kim Designs specializes in helping retailers and manufacturers worldwide in targeting introductions for North America and Europe retail. Color and Trend direction is also available.
At Kim Designs, the client enjoys an efficient, low-cost solution for sourcing new art. Clients shop for vibrant, trend-forward exciting art and patterns in a 24/7 environment at KimDesigns.com.
Please make note: Our average pattern price is about $500.00 - $550.00 and the copyrights convey with purchase. For this, we provide AI/PSD layered files with purchase and we are happy to provide additional color way upon request.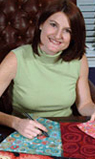 About Kim
Kim received a degree in Economics and Foreign Affairs from the University of Virginia in 1988. From being an Economist right out of college, to the present, Kim has over the years, focused on the Internet and conducting business on the Internet since 1995. Kim always longed to be a designer - either graphically or as an artist of sculpture. However, better things were to come. Kim has made it her daily business to surround herself with the finest designers and artists in the world - in a website that couples her passion for fashion, color and trends in an e-commerce site. The outcome is a design house that has produced an economical and efficient model for manufacturers and retailers of textiles, stationery, broadloom and art to shop for new pattern and product introductions.
Kim's focus is currently on developing the world-wide client base that Kim Designs currently supports. Kim also continues to seek out the brightest designers and artists to accommodate all the individual and unique needs of our clients. Emphasis is on expert advice, perfect customer care, diversity, confidentiality and high-caliber design and art. kim@kimdesigns.com
Our Great Supporting Team Members and Services Include:
Chanta
is our Design Coordinator and in charge of Client Services. Need help finding something?
chanta@kimdesigns.com

Sharon
is Kim Designs Graphic and Branding Expert. Need help with a website or branding/logos/ or labels?
sharon@kimdesigns.com


Cesca
helps us name designs and add descriptions to our patterns and art. This is a very important job as it really helps our search engine find what you are seeking.
cesca@kimdesigns.com
Need Trend Boards? Ask
Anna
for her lovely three dimensional boards with focus on pattern references with PMS color notations included. These are absolutely beautiful and useful for product development needs.
info@kimdesigns.com

Product Development
Kim Designs has a team of product development experts for apparel, home décor, textiles, bedding, jewelry & seasonal items.

Rod is one of our leading product designers.

Marketing Solutions
Creative K
is a division of Kim Designs and offers start to finish marketing solutions for your product lines.
www.creativek.us
Info@creativek.us